How do I get a job in UX design?
Doing a basic LinkedIn search for "Junior UX" returns thousands of results. That said, getting an entry-level job in UX can be difficult. Part of this reason is that the field is still relatively new, and many of the established UX workers transitioned from other (often very random) fields. That is part of what makes UX great, but also a limitation for those looking to get into the field and seeking a clear "career path." That said, here are some common paths I've observed.
Transition from another information design field.
Many UX people worked previously as designers in another field, such as architecture, instructional design, technical writing, or library science. Having this type of background is great because it lends itself very well to what you will do as a UX person: designing information systems and how users will interact with environments. Typically the learning curve here will be digital or technology basics, such as understanding basic HTML/CSS, content management systems, working in agile teams, wireframing software, and so on. Fortunately many of these skills are easily learned on the job, or online or in UX bootcamps.
Transition from another tech field.
Another primary route for people to get into UX is by starting in another tech job, such as web copywriter, visual designer / art director, or front end developer. Lots of these people wind up working along side UX people and decide they would like to focus on it full-time. Often the reason is a desire to focus more directly on users themselves, including user research or usability testing. Here the learning curve will be less technical, and more in the science of human-computer interaction. For example, art directors may be very strong at making a website visually
Study at a UX bootcamp.
Another increasingly popular way to go is to enroll in a UX program such as General Assembly, which can give you the UX basics in a couple of months, regardless of your background. Another advantage of this approach is a better pipeline into entry-level jobs once you graduate. Employers will know that you have a good grounding in the basics and can accelerate learning on the job. Here are links to a few of the more popular programs:
https://generalassemb.ly/education/user-experience-design-immersive
https://www.springboard.com/workshops/ux-career-track/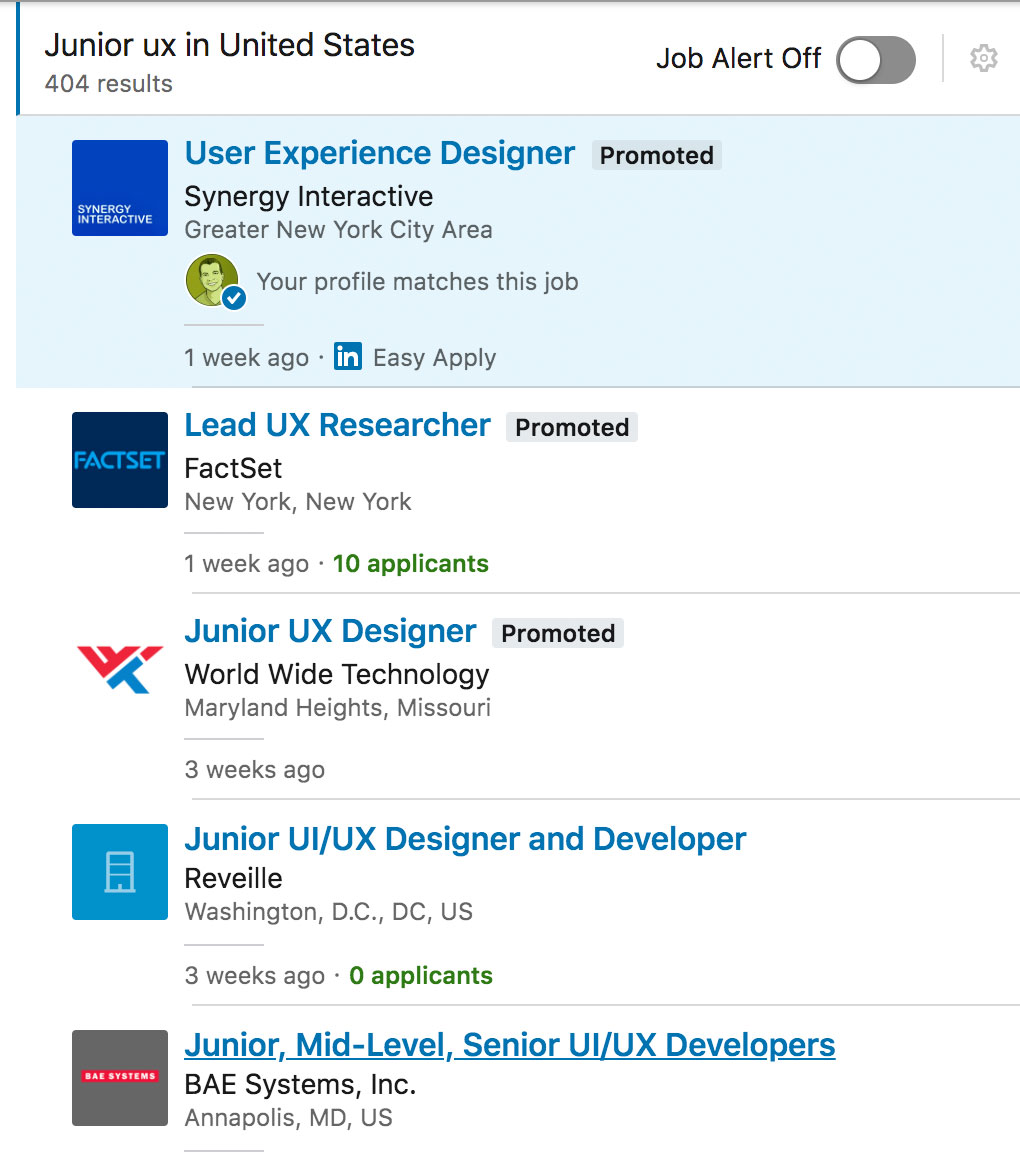 A recent query on Linkedin for Junior UX roles yields these results, half of which have nothing to do with what I looked for.

Answer: Not easy, but possible. UX people come from a variety of backgrounds, which can make it a bit confusing to break into the field. In this answer we'll explore some common career paths such as transferring from another technical career, or a bootcamp. The good news? Not nearly as difficult as getting a job as a neonatal cardiac surgeon.

Answer: Not much. You would likely make more managing an Arby's. But hey you could also probably do worse. More to the point, around $73k for 0-2 years experience according to one study (jumping to $93 with 3-4 years). We'll take a look at those data points and others in this answer.

Answer: You're in luck. A hat is a wise investment in any field, and having one in a design field is simply apropos. While I don't commonly wear a hat myself, I am envious of those who do. Hats can shield you from a variety of indoor office hazards, such as unwanted co-worker eye contact, overhead AC vents, and florescent lights.